Para leer en español, haga clic aquí.
Dear [firstname],
I hope this email finds you and your family safe and healthy. I want to share some updates on what I worked on last week in Congress, but first, I want to remind you of a few important upcoming dates to remember.
Preparing for our November Elections
The November election is right around the corner and I want to ensure El Pasoans have the information and resources they need to vote as the COVID-19 pandemic continues.
Early voting begins on Tuesday, October 13, 2020. If you are voting by mail, the last day to apply for a Ballot by Mail is Friday, October 23, 2020. For more important dates, click here.
Last month, I had a conversation with El Paso County Elections Administrator Lisa Wise. Lisa debunked myths and discussed important information like vote by mail, early voting, drop-boxes, deadlines, election protocols, and more. Please take a moment to watch this important conversation here.
Fighting for COVID-19 Relief
144 days ago, my Democratic colleagues and I passed the Heroes Act to address the unprecedented coronavirus (COVID-19) health and economic crisis, protect the lives and livelihoods of El Pasoans, and the life of our democracy. Since then, the Heroes Act has been stonewalled in the Senate, leaving millions of Americans without the relief they desperately need.
Last Thursday, the House passed an updated version of the Heroes Act to address the needs that have developed since we passed the bill in May and formalize the offer in ongoing negotiations between House Speaker Nancy Pelosi and Treasury Secretary Steve Mnuchin.
The $2.2 trillion legislation included strong support for small businesses, improving the Paycheck Protection Program, delivering targeted assistance to restaurants and nonprofits, additional assistance for airline industry workers, and more funds to bolster education and childcare.
Additionally, the updated legislation provides strong support for our heroes on the frontlines of COVID-19 with robust funding for our state and local governments. The legislation also invests in testing, tracing, and treatment necessary to combat this health and economic crisis.
Census 2020 Update
As you may know, there has been a lot of uncertainty about the Census deadline. Last week, A federal judge ordered the U.S. Census Bureau to continue counting for the 2020 Census through October 31, 2020.
It has never been more important than ever to make sure you are counted. The census provides data to help determine how billions of dollars are allocated every year to hospitals, infrastructure, veterans programs, schools, affordable housing, and hundreds of other critical services that have a significant impact on our lives.
If you have not done so already, please fill out your Census forms right now by going online to 2020census.gov, calling 844-330-2020, or mailing back the paper questionnaire as soon as possible.
If you already filled out your Census, please check with family and friends to make sure they have filled theirs out, too. It is much more difficult to gather information during this pandemic, so it is up to each one of us to ensure we get it done for our community.
CHC Virtual Discussion About the Coronavirus' Disproportionate Impacts on Latinos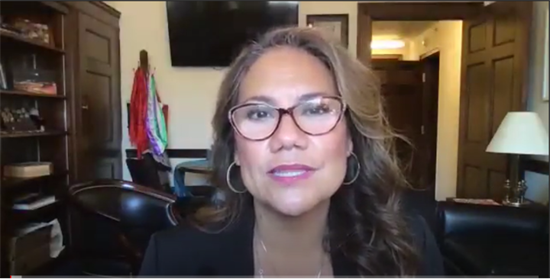 To watch our discussion, click here.
Last Wednesday, I joined the Congressional Hispanic Caucus (CHC) for a virtual discussion with an expert panel on the disproportionate impact of coronavirus (COVID-19) on Latinos. The discussion included the following experts:
Dr. Anthony S. Fauci, M.D. Director of NIAID Director and lead member of the White House Coronavirus Task Force

Dr. Peter Jay Hotez, M.D., Ph.D. Dean for the National School of Tropical Medicine, Baylor College of Medicine

Dr. Robert Rodriguez, M.D. Professor of Emergency Medicine, University of California San Francisco

Kenia Peregrino, Emergency Relief Organizer for the UFW Foundation
Since the beginning of COVID-19, I have called for the development of a binational strategy to combat the virus along the U.S.-Mexico border. Ahead of President Trump's meeting with Mexican President Andres Manuel Lopez Obrador, I urged both presidents to work together towards a strategy that includes identical testing and tracing policies and resources to slow the spread of COVD-19 and never received a response.
During the discussion, I asked Dr. Fauci about the possibility of the White House Coronavirus Task Force working on this effort to support binational communities like the El Paso-Juarez region. The bilateral relationship between the United States and Mexico is a critical one and I will continue to work to protect our border communities.
Our Latino communities have been disproportionately affected by the COVID-19. Dr. Peter Jay Hotez told the CHC members that we're seeing a historic decimation of Latinos by this public health crisis.
Bipartisan Legislation to Protect
Servicemembers and Veterans
Last Tuesday, the House Judiciary Committee passed a bipartisan bill I introduced to protect our servicemembers, veterans, and their families. H.R. 8354, the Servicemembers and Veterans Initiative Act of 2020, would permanently establish the Servicemembers and Veterans Initiative within the Civil Rights Division of the Department of Justice (DOJ). My bill would task certain duties to the DOJ to represent the legal interests of servicemembers, veterans, and their families such as: serving as legal and policy advisor to the Attorney General, developing policy recommendations, serving as the liaison between the DOJ and the military departments, and more.
El Paso is home to a strong and growing veterans' community and to Fort Bliss – on the largest Army installations in the world that trains soldiers from across the country. One of my top priorities is to protect and serve military families and veterans in the same way they have served our country and defended the freedoms we enjoy each day. This effort will make it easier for the DOJ to coordinate with the Department of Defense to ensure their needs are met and that they are protected from abuses such as fraud and predatory lending.
H.R. 8354 now awaits consideration on the House floor. To learn more about my bill, click here.
Cafecito with Gold Star Families
As part of Gold Star Families Remembrance Week, I had the opportunity to have a virtual conversation with Gold Star Families to honor the sacrifices made by the family members of our fallen soldiers.
Our Gold Star families have given us so much, but they are oftentimes left without the benefits they deserve after their loved ones pass away. I am grateful for their service and sacrifice and I will keep working to ensure they have all the support they need.
No Confirmation Until Inauguration
Last Friday, I joined my fellow Democratic Women's Caucus colleagues to deliver a letter to Majority Leader Mitch McConnell calling for the Supreme Court Justice's confirmation to be halted until the inauguration. We are in the middle of the most important election of our lives and more than one million Americans have already voted. Majority Leader McConnell must honor the precedent he set regarding nominations of Supreme Court Justices during an election year and let voters have a say.
Watch my remarks here.
Testing and Additional Resources
The fight against COVID-19 is far from over, and this is not the time to let our guard down. We have to do our part and stay home unless we absolutely need to leave for an essential activity. We all have a role to play in slowing the spread and protecting ourselves, our family, and our community.
Because new information about COVID-19 is coming out daily, please visit my resource page on my website for the latest updates, recommendations from the CDC, and a Frequently Asked Questions section. Additionally, visit the sites below to stay up to date.
The CDC provides updates on the virus and safety information for the public and healthcare professionals, as well as Frequently Asked Questions available here.
The City of El Paso has a hotline for residents to call for more information regarding COVID-19. The number is 915-21-COVID, or 915-212-6843.
If you need to get tested because you believe you've been exposed to COVID-19 or are experiencing symptoms, please get tested. The City of El Paso also offers mobile testing centers throughout the city that are now open and are free of charge for any symptomatic or asymptomatic person. So, whether you are exhibiting symptoms or not, you can get tested! For more information on locations and operating hours, please click here.
The Texas Department of State Health Services provides updates on the disease's spread within the state.
The safety and well-being of you and your loved ones is of the utmost importance. If you have any questions or concerns, please do not hesitate to contact my office via email at Veronica.Escobar@mail.house.gov or by phone at 915-541-1400.
Sincerely,
Veronica Escobar
Member of Congress
###