Press Releases
Congresswoman Escobar Announces 2020 Congressional Art Competition Winners
El Paso, TX, May 27, 2020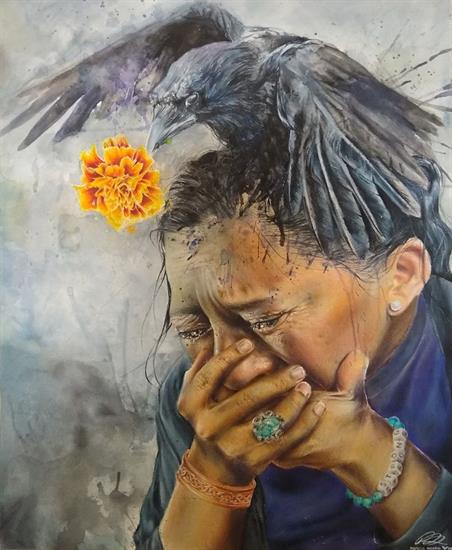 The Messenger, by Romelo Rosario from Chapin High School
Congresswoman Veronica Escobar (TX-16) hosted a virtual awards ceremony to announce the winners of the 2020 Congressional Art Competition for Texas' 16
th
Congressional District high school students.
This year's first place, The Messenger by Romelo Rosario, a senior at Chapin High School, will be displayed in the U.S. Capitol Building for one year.
"Congratulations to Romelo Rosario and all young El Paso artists for sharing with us their talent and creativity during this difficult time," said Congresswoman Escobar. "As our community confronts a pandemic that has altered our lives, art is a tool that can transform and console, and I am thankful to artists, teachers, and judges for their participation and dedication to make this year's competition a success."
Students from 12 high schools within Texas' 16th Congressional District submitted 60 pieces of art for this year's competition. A virtual gallery is available for public viewing here.
Each spring, the Congressional Institute sponsors a nationwide high school visual art competition to recognize and encourage artistic talent in the nation and in each congressional district.
Below are the results of the 2020 Congressional Art Competition:
1st Place: Romelo Rosario, The Messenger | Chapin High School
2nd Place: Mireya Domingez, Un Cafecito Sabroso | Eastwood High School
3rd Place: Jesus Sierra, Hecho En Mexico | Bel Air High School
People's Choice Award: Frida Coronado, Jarocha | Bel Air High School
Honorable Mentions:
Matthew Acosta, Unfinished Beauty | Parkland High School
Jacob De la Rosa, My Senior Year | Riverside High School
Gabriela Estrada, Home | Eastwood High School
Paola Nava, Three Generations | Bel Air High School
Derek Gamez, Window Pain | Eastlake High School
Camila Marquez, A Mother's Love Protects Us All | Eastwood High School
Isabella Canales, Two Cultures, One Future | Bel Air High School
To watch the 2020 Congressional Art Competition Virtual Awards Ceremony, click here.