Press Releases
Congresswoman Escobar Invites El Paso Small Business Owner as Virtual Guest to President Biden's Address to a Joint Session of Congress
El Paso, Texas, April 28, 2021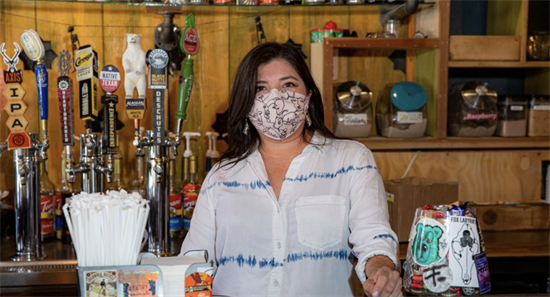 Christina Muñoz, Owner of Joe Vinny & Bronsons Bohemian Café.
Photo courtesy of Buy El Paso

Congresswoman Veronica Escobar (TX-16) announced that Christina Muñoz, El Paso small business owner, has been invited to be her virtual guest for President Joe Biden's Address to a Joint Session of Congress. The Joint Address is President Biden's first speech to a Joint Session of Congress, marking the first 100 days of his administration.
In the past, Congresswoman Escobar has invited members of the El Paso community as guests to State of Union addresses. In 2019, Congresswoman Escobar invited El Paso Dreamer Senaida Navar, and in 2020, she invited Raul Flores, son of Maria and Raul Flores – victims of the 2019 domestic terrorist attack against El Paso. This year's in-person attendance is limited due to COVID-19 safety protocols.
"This evening, President Biden will remind El Pasoans and Americans across the country of the painful challenges we have endured over the past year, and how we have united to build back better," said Congresswoman Escobar. "El Paso small businesses make up the backbone of our local economy and thanks to the American Rescue Plan's critical support to hard-hit small businesses and vaccination program, Christina Muñoz – a Latina balancing her roles as mom and entrepreneur – will be able to keep the doors of her beloved coffee house open, retain employees, and keep workers and customers safe."
Christina Muñoz is the owner of Joe, Vinny and Bronson's Bohemian Cafe in Central El Paso. She and her staff weathered the COVID-19 pandemic thanks to the Paycheck Protection Program (PPP) and the American Rescue Plan's vaccination program that has allowed her staff to be fully vaccinated. Christina and her partner have three children and look forward to schools reopening safely.
###